About Ukrainian Patriot
Ukrainian Patriot operates on five pillars: protective gear, medical equipment and medicines, humanitarian aid for both humans and animals, PTSD and trauma assistance, and rebuilding efforts.
Ukrainian Patriot is more than just a group of concerned Ukrainians and internationals – they're a movement. Their team members are working tirelessly to provide support and aid to those defending Ukraine and the civilians caught in the crossfire. But they're not simply sending money – they're physically on the ground, making deliveries every week. This means they can respond immediately to the greatest needs, and that your donations will have a direct impact on the people who need help the most.
When possible, these supplies are procured within Ukraine to reduce cost and delivery time. When this is not possible, they are expedited from international manufacturers and routed through our temporary warehouse in Lublin, PL before being delivered directly to the civilian battalions and humanitarian aid workers inside Ukraine.
Join the movement of people who are making a real, tangible difference in the lives of those most affected by this ongoing invasion.
Ukrainian Patriot is registered in Ukraine, the United States, Canada, and Australia.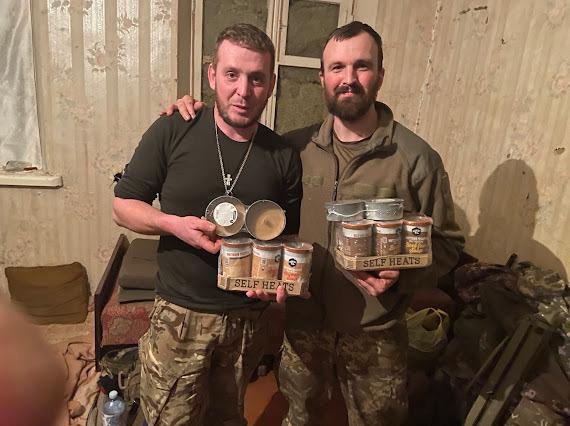 Donate a Warm Meal to Ukrainians in Need
For only $50 you will give the gift of sustenance and warmth by providing 24 self-heating hot soups, hot chocolate drinks or hot coffees to those who need it most in Ukraine!
Donate Now